Acoustic Covers in the Mix – Music Bingo 30
Get ready for a musical adventure with our Free Music Bingo! Our product includes 10 free PDF bingoboards and a mix of 30 acoustic songs that will put your music knowledge to the test. From classics to modern tunes, our game covers a wide range of genres that everyone will love. Not only will you have to recognize the song, but you'll also need to identify the original artist who made it famous. Plus, we've made it easy for you to access the mix at Mixcloud, so you can enjoy the music even outside the game.
Our Music Bingo is perfect for a small event, a family night, or just a fun pastime with friends. And if you enjoyed this game, check out our other musicbingos in the shop. You'll find a variety of music themes to suit your taste.
Don't forget to follow us on Facebook (https://www.facebook.com/qvizno) to stay updated on our latest products and promotions.
Download our Free Music Bingo now and experience the thrill of the game with a musical twist!
Bingoboard example: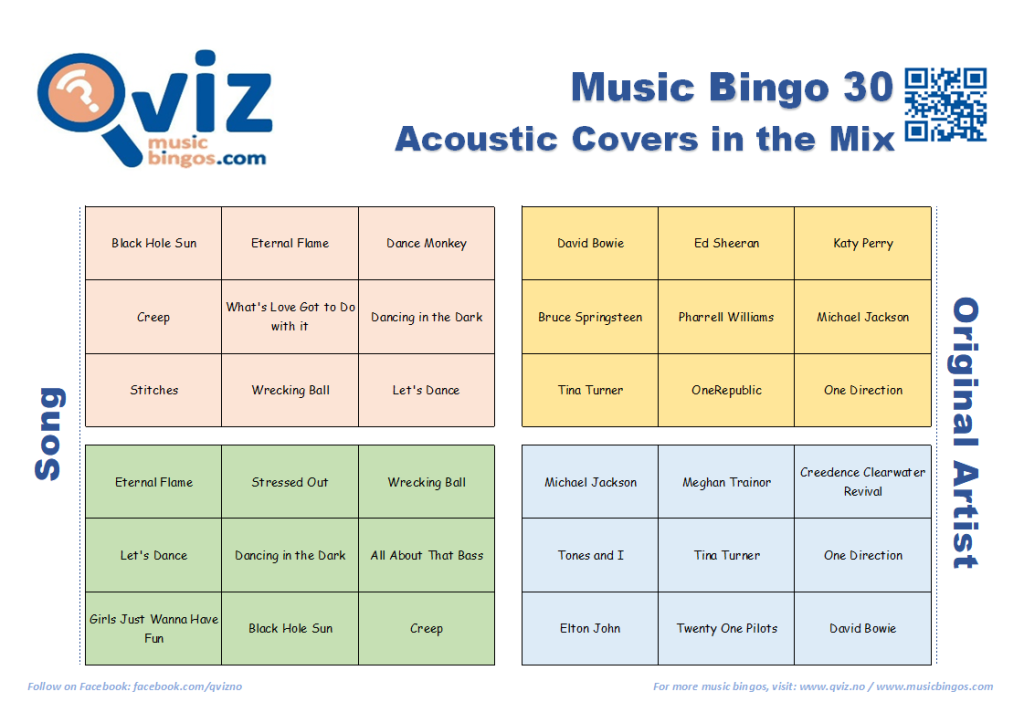 Bingocards and songlist:
Acoustic Covers in the Mix – Music Bingo 30 10 cards
Acoustic Covers in the Mix – Music Bingo 30 songlist
Mixcloud: